Rose and Sage Outfit for Fall with Aritzia and Sea New York
Outfits that make me feel most authentic, most stylish and put-together are creative ones that combine bold color compliments in softer tones (like mint green + rose pink vs red + green together) and feminine details, mixed with structure and stronger lines. In styling terms – that I discuss during my Style Development Sessions – I like to combine my Creative + Feminine Style Personalities with Elegant details.
For this look, I styled a pair of vegan leather pants (an item I definitely recommend as a must-have this Fall going into Winter) with a fun and dramatic sweater and creative yet clean accessories.
Here are the exact ingredients to this outfit formula, and how I styled it:
Cropped Vegan Leather Pants. This pair is by Aritzia and is called Wiflred Melina – I like that they have many different colors in this style to choose from, as well as cropped and full length options. I chose this "sage frost" color for this particular look. I also found a few great vegan leather pant options from other brands – please see in the shopping carousel below!

A Structured Clutch. This Fendi Wallet on Chain is super classic and clean, while being bold and dramatic because of the logo and color. I love how it pairs with this colorful look, grounding it and adding a touch of understated luxury.

Feminine and Dramatic Sweater. I've styled a few pieces by Sea New York in the recent past, and this one is my absolute favorite. It's called Novia Embellished Sweater and is sadly completely sold out as I bought it in the Spring. I tagged it below though in case you want to sign up to a restock on one of the sites that carried it. I just adore the organza sleeves on this otherwise basic crewneck sweater. I think it's so chic and both glamorous and simple at the same time. This shade of pink is great for Spring and Fall – and pairs perfectly with the sage color of the pants.

Lace Up Booties. These Freda Salvador Booties have shown up in a few recent looks on my blog, and in this outfit, they continue the pink color of the sweater in the same color family *red and pink belong to the same hue* to create "linking" in the outfit – making it feel cohesive and purposeful. love their comfort and stylish lace-up details, and found them in a brown color online as the red is sold out – see below.
I hope this inspires you to try out a similar outfit this Fall! As always, please feel free to share the outfits you create via Instagram, using hashtag #ModnitsaOutfit in your posts, and I'll be sure repost them on my stories!

xo,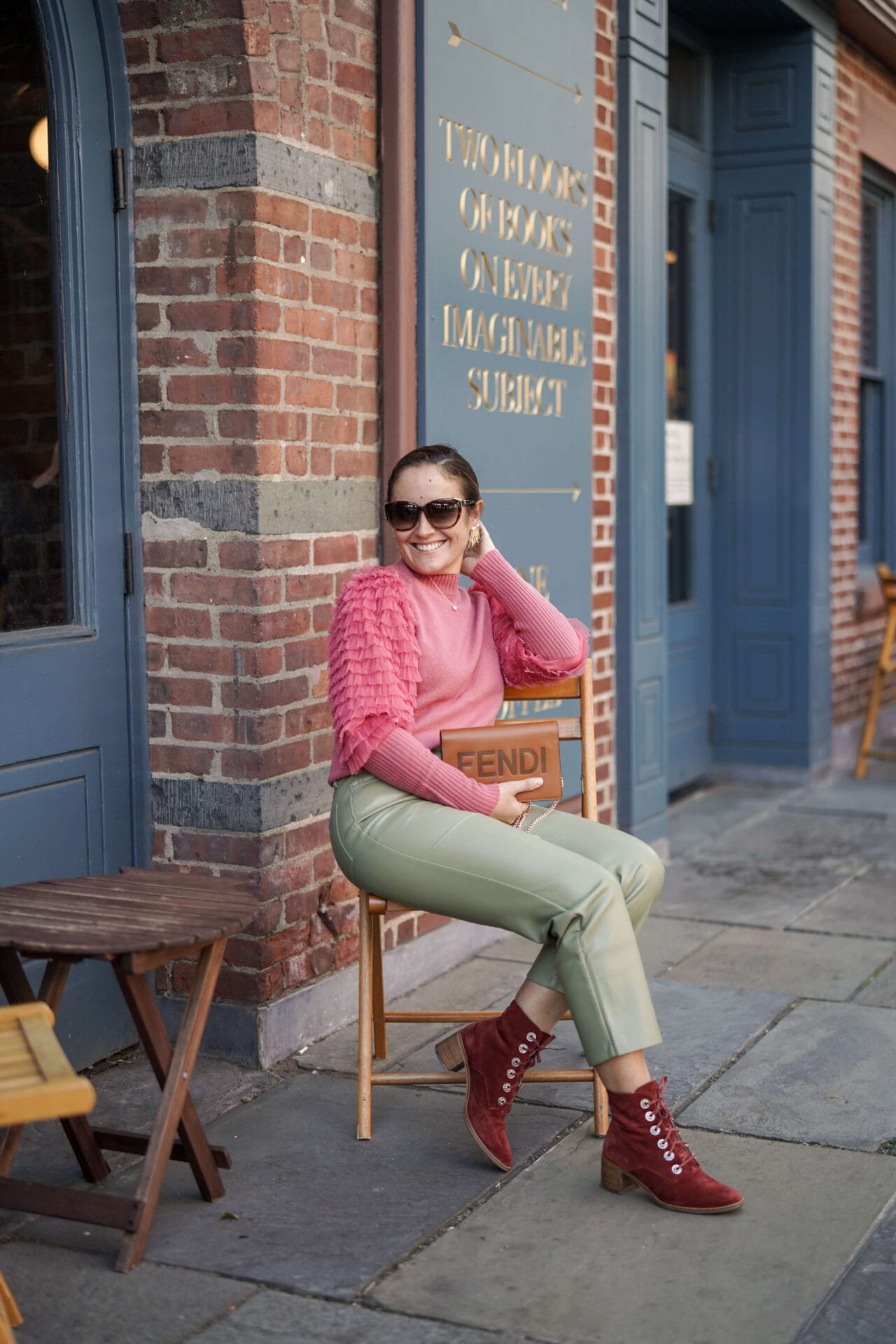 Photography by Anna Vivare.